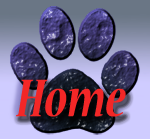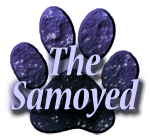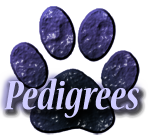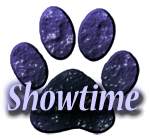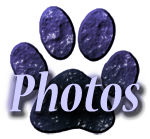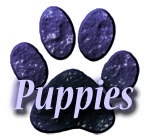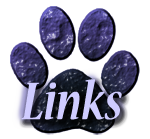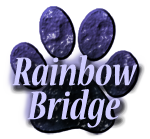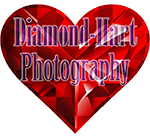 About Us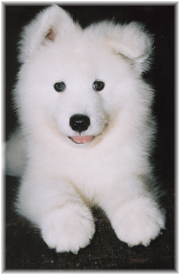 My love for Samoyeds began when I was 10-years-old. Some people who lived in our neighborhood had these strikingly beautiful dogs they walked daily past our house. The contrast of the black eyes and black nose with that glistening white fur was breath-taking. Their smooth gait was both graceful and deliberate, and that unforgettable "smiling" happy face! I was in awe every time I saw them! One day when the people were walking their dogs by our house, I ran out to them and asked what kind of dogs they were; although, I couldn't pronounce the name very well, I told them "Someday I'm going to own a Samoyed" to which the couple smiled at me, but probably didn't take me seriously as I was so young. My dream of owning a Samoyed would not come true for ten years—BUT IT DID COME TRUE!
My husband, Jeff, and I bought our first Samoyed in 1980, from a couple in Eagle, MI. We did a lot of research on the breed first and decided a Samoyed was the right dog for us. She was just 8 weeks old—a sweet little "polar bear" we named Lady Tasha of Hancock. Four years later, Tasha had puppies; we kept a female and named her Lady Samantha of Hancock and called her Sammi. We had a lot of fun with our girls. They enjoyed riding in the car—we would go on day trips to the country and walk around the woods, just spending time together. A year later, we had our first child, a boy, whom we named after his daddy. Our troop wasn't complete yet—someone was missing; three years later we welcomed our daughter, Julee, into our family. Samoyeds have a wonderful temperament; their bond with humans is deep in their roots. I NEVER had any fear that my kids were in danger around the dogs, they are so good with children, so gentle and loving.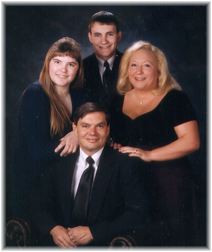 The time we had with Tasha and Samantha was wonderful—dogs give so much and ask for so little. First Tasha left us, and then Sammi—they are together at the Rainbow Bridge waiting…anyone who has lost a pet knows the feeling you get when your friend passes away—an emptiness that takes time to heal. We were busy raising our children and working. We decided getting a dog right away wasn't a good idea. The years passed by and our kids grew up quickly. We had more free-time and we missed having dogs around…it was time to get a dog!
In 2006, we bought a Samoyed puppy from Sunkaska Samoyeds in Traverse City, MI. We named him Sunkaska's Samson De Bravo. He is everything I ever wanted and more! Samson has matured into a handsome male—he's spunky with a lot of personality and such a showman in the ring! Sometimes when I see him gaiting in the show ring, I can't believe he's mine—he's so beautiful!! Jeff got the German Shepherd he always wanted and the 2 boys play together in the yard. Jeff named him Kaiser, which means "King" in German. German Shepherds are so smart, Kaiser has already figured out how to open all the doors and gates in and out of the house, so everything has to be in the locked position!! Kai is such a good watchdog, keeping an eye on everything. He adores Jeff; their bond grows stronger every day.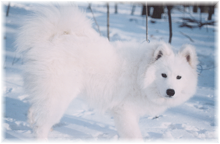 Two and a half years went by and we decided it was time to add female Samoyeds to our home. We bought one of our female puppies from Kolinka Samoyeds in Canada. We named her Kolinka's Misha's Magic Moment. Then we got our next female puppy from Pebbles' Run Kennels in New Jersey. We named our "Jersey Girl" Pebbles' Run Star of Sierra. Although the girls can be inquisitive and a handful at times, they are softer and sweeter than the boys generally.
In August 2010, we had the good fortune to be asked to co-own a wonderful and precious male Samoyed puppy with Sue and Sandi Wade of Trail Wynd Samoyeds. We named him Trail Wynd's Chasing The Dream, we call him Chase. He has so much potential at such a young age with good temperament for the show ring. Chase is going to be so much fun to show, we can hardly wait to bring him out for everyone to see!
We enjoy the dogs, having both boys and girls around the house--they really are a lot fun!! Our lives have totally changed since opening our house and our hearts to our dogs and we wouldn't have it any other way!! Now we are busy attending AKC/UKC conformation dog shows. We have met some really nice people who have helped us in this new hobby. Jeff and I are members of the Samoyed Association of Metro Detroit (SAMD), as well as the Samoyed Club of America. Our dogs are more than pets to us; they are part of our family. Thanks for visiting our website. We hope you enjoyed learning about Snowchien Samoyeds. See you at the shows!
Mary & Jeff Hancock
306
Please contact us at
Mardi2u@aol.com
This website and its' contents are ™ & © 2009-2010 Snowchien Kennels. All rights reserved.